My newest book, The Emerging Citizen: Media Literacy, Engagement and Participation in Digital Culture, is set to be released in Spring 2014 (Peter Lang Publishers). This book explores the role of media literacy in participatory civics in digital culture.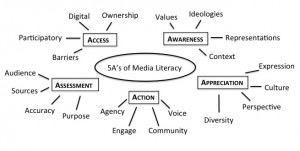 Excerpt from the Introduction
At the heart of this book are the opportunities that social media platforms and mobile technologies provide for communication, connectivity, and community. Media Literacy and the Emerging Citizen is about enhancing engagement in a digital media culture, and the models that educators, parents, and policy makers can utilize to place media savvy youth into positions of purpose, responsibility, and power. Two specific challenges are at the core of this book's argument that media literacy is the path towards more active and robust civic engagement in the 21st Century.
How can media literacy enable core competencies for value-driven, diverse and robust digital media use?
How can media literacy enable a more civic-minded participatory culture?
These challenges are indeed large, but need to be seen in their entirety for media literacy to begin to address the opportunities they present for democracy, participation, and discourse in a digital media age. By presenting information that places media literacy at the center of what it means to be an empowered citizen today, educators and policy makers will be able to see why media literacy must be integrated into formal and informal education systems before it's too late. The call for more vigorous formal and informal pedagogical responses to our current digital media landscape is arguably more important now than ever before. As long as educators continue to position social media outside the bounds of the classroom and detached from learning about community, democracy, and civic participation, our education systems will continue to fall well behind the expansive integration of social media platforms for daily civic functions.
The Emerging Citizen is a manifesto for media literacy education that is at the center of how young people understand the influence social media have on their personal and public lives and use digital media for more inclusive lifestyles. The opportunity to reframe the debate on what an engaged citizen is and on how media literacy education can stand to empower the next generation of leaders is apparent and glaring. This book is driven by the potential of networked communities to build new collaborative participation across all facets of society (Neal, 2012). Clay Shirky (2010) sees this as the true opportunity for collaboration today: "People want to do something to make the world a better place. They will help when they are invited to." (p. 17). Media literacy can help activate that human element by harnessing the true power each individual has to add value in society today. And we are not that far away.
Table of Contents
INTRODUCTION – Civic life in a digital media age
PART ONE – Emerging Landscapes
Chapter 1: The emerging civic landscape
Chapter 2: The emerging media literacy landscape
Chapter 3: Digital media culture and the civic potential of media literacy
PART TWO: Listening to Emerging Citizens
Chapter 4: Young citizens and perceptions of social media use – Integrated information landscapes
Chapter 5: Young citizens and perceptions of social media's value – A disconnect emerges
PART THREE: A Framework for Media Literacy and the Emerging Citizen
Chapter 6: Media literacy education in digital media culture: Bridging the disconnect
Chapter 7: The 5A's of media literacy: A normative model for the emerging citizen
CONCLUSION – Media literacy & civic life in a digital media age
I can't wait to share the book when it's published!